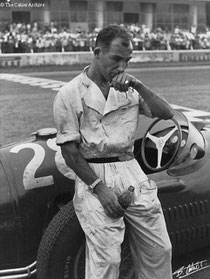 There is no other racing driver the British love more than Stirling Moss who had become second in the Formula 1 four years in a row. He has even stood up to one of his opponents, Mike Hawthorn, in order to let him become world champion. Until recently, Moss was still driving races and rallies.
In 2011, the superb gentleman driver has announced his retirement for good – at the age of 82. Now, Sir Stirling has more time to devote to the task of a flashback: a film about himself and his life.
In his days, Stirling Moss was the fastest and best of all drivers, certainly in the United Kingdom. "Who do you think you are? Stirling Moss?" police men used to ask if they stopped motorists with a few too many miles on the clock ...
Selkirk Pictures & Enterprises Ltd. are preparing a biographical documentation, a cinematic homage to the exceptional driver and living legend of motor sports, Sir Stirling Moss. The aim is to narrate his fascinating life and to show emotional, very personal and unknown aspects of his character.
The film will deliver intimate insights into motor racing of the fifties and sixties. Previously unreleased historical film footage, personal interviews with contemporary witnesses, friends, relatives and citations of race companions will create a petrol-drenched documentation of British and international racing history.