ABOUT THE FOUNDER / CEO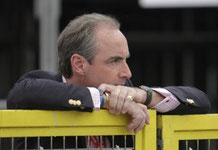 Philip Rattray Selkirk - born in 1964 in Bicester, Oxfordshire, England - is a British citizen.
He is a blend of Scottish, English, German, Austrian and Transylvanian blood. At the age of three he decided to spend more time in the land of his German ancestors and so, after his school days in Wiesbaden near Frankfurt, he moved to Vienna to study philosophy, history and the culture of coffee houses.
In 1987 he felt he wanted to witness the Fall of the Berlin Wall in person. Hence, he left the Austrian capital for the German metropolis. Two years later, on 9 November 1989, he experienced the historic moment while assisting Tom Brokaw, the legendary anchorman of NBC. However, Selkirk was not yet convinced to work in media and opted for a career in bricks and mortar. He joined one of the leading real estate developers in Berlin after he graduated in economics and business administration at the Free University of Berlin (West).
After five years of collaborating in immovables he, in 1997, with plenty of business and life experience finally made the move into the film industry. Initially, he worked with the film producer Dieter Geissler – renowned for his production "The Neverending Story" – and his production company Cinemagic. In 1999, Selkirk joined the management body of Taunusfilm (later Cinemedia-Group) in Wiesbaden – the place where he was brought up.
As an executive producer he was in charge of a number of German-Canadian co-productions. In the summer of 2002, Selkirk founded his own company, Selkirk Pictures & Enterprises. A year later, Selkirk debuted as a documentary film director with "Castro", a documentary on the Cuban leader and president.
Today, his production company Selkirk Pictures & Enterprises Ltd. specialises in film documentaries for the international market – in cooperation with TV channels (including arte, ZDF, ARD, ESPN, Discovery Channel), with private investors as well as for the industry.
Since the production about the Cuban "comandante," a number of productions in the style of "Castro" followed – i.e. about the former and late prime minister of Pakistan, Benazir Bhutto and, currently in production, about Francisco Franco and the Aga Khan. In the field of motor sports, Selkirk Pictures, in cooperation with Daimler AG, documented the German racing legend Rudolf Caracciola and – with Volkswagen – the Belgian racing ace, Jacky Ickx, furthermore, in collaboration with Chopard – the unique motor sports event in Italy, the Mille Miglia, a film docu in which Selkirk pays tribute to the legendary motor race, for the first time in feature film length.
In 2015, Selkirk completed a highly-praised 90-minute documentary about the legendary Italian marque Maserati.
Born in England, brought up and educated in Germany and Austria with a good, strong relationship to Spain – where his parents met in the late 1950s – Philip Selkirk's language skills and cosmopolitan outlook have served Selkirk Pictures & Enterprises Ltd. well, particularly with multinational corporate clients.