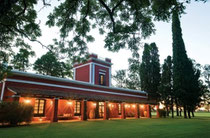 Argentina is a land of dreams… It is a beautiful country; very long, very wide; full of very different geographical regions and climates.
The Pampas, the area in the Province of Buenos Aires has this very romantic feeling – with its beautiful trees, grassland, cattle and especially the horses and the gauchos.
Amidst the immensity of the Pampas stands a wonderful dwelling executed with one simple philosophy in mind: to respect and adapt to the environment around it – and its history.
Ideally located only 120 km from Buenos Aires and close to San Antonio de Areco in the heart of the Pampa, this estancia – one of the oldest in Argentina – recently renovated with great care as a boutique hotel, successfully combines luxurious comfort and colonial elegance.
The feeling of being welcomed into a private home, into a property steeped in history and tradition makes this hotel a special and timeless place for relaxation. Exquisite cuisine, refined service, gaucho traditions and equestrian sports add to the unique magic of La Bamba.
Selkirk Pictures were commissioned by the owners of La Bamba de Areco to capture and feature the exquisite amenities and quality of this unique place. The film exists in three versions: 4, 14 and 18 minutes.
Runtime: 4, 14, 18 min.
Release Date: March 2011