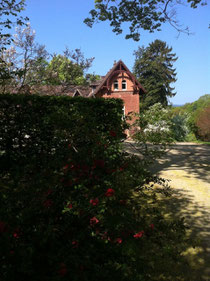 Hofgut Sommerberg – this domain, an arcadia, visually resplendent as a Turner painting, lush and luminious, idyllic – at the same time perfectly connected to the "outside" world and civilization.
Centrally located, five minutes from the Rheingau wine-region, 10 minutes from the city centre of Wiesbaden, 20 minutes from Frankfurt Airport and only half an hour from the city of Frankfurt. 
The origins of the estate date back to 1563 when it was registered in the court book of Frauenstein under the name of "Sommerberg" – meaning summer hill. In 1872, it came into the possession of the Counts of Hatzfeldt-Wildenburg.
From Sommerberg one can appreciate one of the most majestic views to the south of Wiesbaden across the Rhine, towards the west into the Rhine-valley and the Rheingau – an the area which 18th century painter Joseph Mallord William Turner, was so inspired by to create such masterpieces as "A View on the Rhine".  Turner was so captivated by the glorious landscape, he diligently worked to transfer his passion for this particular region onto canvas.
Apart from the main country-house, the charming, red-brick, former farmstead buildings, the unique estate consists of an 18-acre park with woodlands, meadows and abandoned vineyards.
It is an absolute haven for Selkirk Pictures & Enterprises Ltd. to be based, as it continues to inspire the development of projects, concepts and scripts, as well for editing and ultimately completing film productions.