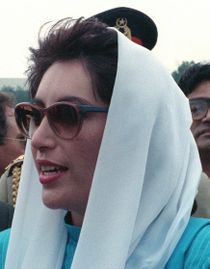 Philip Selkirk's documentary focusing on two-time prime minister Benazir Bhutto is a thorough and complex portrait of a Pakistani lady involved in politics in her – Muslim – country. The film is accurately exploring the tangled, fascinating web of political challenges she has been facing.
Utilizing a wealth of archival clips and personal reminiscences, Selkirk delves deep into the life of Zulfikar Ali's eldest child Benazir, a Harvard and Oxford-educated, fiercely independent woman who returned to her father's side following a violent military coup. Undergoing years of imprisonment, house arrests, and family tragedies, she nonetheless persisted in her goal of improving her country's standing in the world, a mission tragically cut short by her assassination in 2007… 18 months after Selkirk met Bhutto the last time while both attended a debating evening at the Oxford Union Club.
While Selkirk explains the achievements and the charisma of both Benazir Bhutto and her father, it is to his credit that he doesn't shy away from the darker controversies as well, including charges of nepotism and corruption that continue to plague the family to this day.
Benazir Bhutto, the Muslim world's first female leader, was touted as a symbol of modernity and democracy, however simultaneously her name became synonymous with depravity. Born into one of the most powerful families of Pakistan, Bhutto had a privileged upbringing. It was only after her father, the President, was deposed and executed by General Zia that Bhutto entered politics. Having spent many years in prison, Benazir was finally released, relocated to England and dedicated herself to the overthrow of General Zia. In 1987, after years of exile, over a million people crowded the streets to welcome her back to Pakistan.
Almost twenty years later, twice elected Prime Minister and twice ousted from office amidst corruption charges, Benazir Bhutto tells Philip Selkirk whilst exiled in Dubai: "There are things I would like to have done differently. Mistakes were made." However, she believed she did much for her people, notably: addressing polio and class inequality in Pakistan.
For people even mildly interested in the Sub-Continent, political dynasties, or women in power, this film is a must to see.
This is Bhutto's story. Selkirk made it his mission to reveal the truth about Pakistan's version of the "Iron Lady" and her controversial legacy by talking to supporters, friends, her widower Asif Ali Zardari – the current and heavily-critized President of the Islamic Republic of Pakistan –, the two daughters, opponents and critics such as Imran Khan – Pakistani poltician, celebrity and former cricketer.
"Benazir Bhutto – Daughter of Power" is a joint production of arte/Bayerisches Fernsehen/ARD and Selkirk Pictures & Enterprises Ltd. 
Runtime: 63 min.
Release date: November 2005