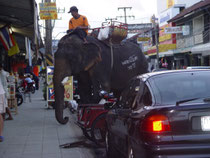 Thailand's elephant, a three-ton colossus is a fascinating but highly endangered species. Year after year, the population decreases by five to ten percent. If nothing is done, the grey giants of Thailand will soon be creatures of the past.
The "King's Cup Elephant Polo Tournament 2004" in the Thai coastal town of Hua Hin is a crazy, glamorous event. As the teams compete against each other, the very earth beneath them trembles. The polo players introduce us to the incredible talents of the pachyderms who are happily humming and trumpeting all the while chasing behind the polo ball…
… Further up north, in Bangkok, we see the other side of society: a vast, noisy and hectic city – a voracious moloch.
We observe an elephant and its driver – the mahout – begging in the streets of Bangkok. The mahout talks about his fate: of unemployment, of his "merits" in the city where he sells bananas and cucumbers to passers-by for a few baht in order to feed his elephant.
Selkirk unfolds the two-class society of the Thai elephants: on the one hand, the manicured tournament eles of Hua Hin, many of whom live in the spacious "Thai Elephant Conservation Center" (TECC) and, on the other hand, the frazzled city elephants, constantly in danger of a car crash resulting in broken legs, with scarcely any medical assistance, in short, a death sentence.
However, this two-class society cannot be perceived with a pure stereotyped thinking: as the elephant polo tournament seems to be the epitome of decadence. The polo-playing "upper-class" eles, the mahout and the players are having great fun during the games. But the tournament functions as a distinguished charity event. Proceeds from these events directly benefit the "working-class" elephants and prevent them from roaming the streets of Bangkok.
There are many ways in promoting and, ultimately, saving the elephants. Even the metabolism of the grey giants brings profit – the elephant dung-paper factory produces colourful paper blocks for children from the fibrous excretions.
Selkirk introduces the viewer to the home of the elephants in the province and explains more about the background of their plight. The bottom line is: the elephants can only survive with – certainly not without the human being, the message being that of survival, whether playing polo or begging.
"The Elephant, his Mahout and the Moloch" is a joint production of arte/ZDF and Selkirk Pictures & Enterprises Ltd.
Runtime: 43 min.
Release date: September 2005